Insula is in the exact center of Procida, like a peaceful and relaxing shelter, perfectly equidistant to the most appreciated landmarks.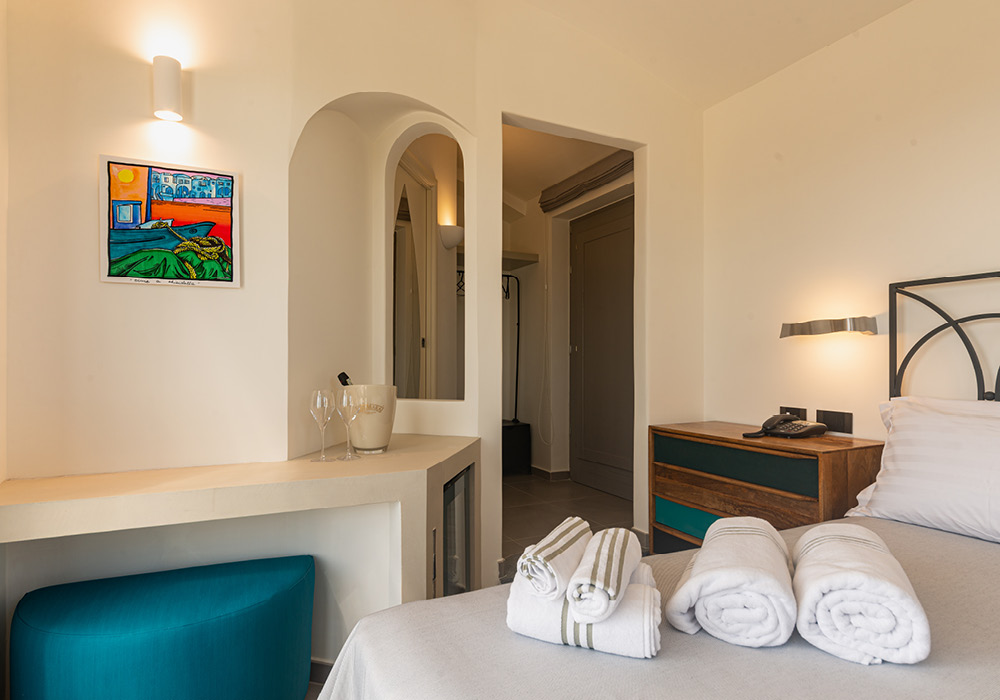 Address
Via Flavio Gioia, 43/45
80079 Isola di Procida
Napoli, Italia

Contacts
Our boutique hotel is situated in a privileged position, which will allow you to reach shops, monuments and beaches in only 15 minutes on foot. You'll also find a convenient bus stop just a few meters away from the building.
In the vicinity, especially in Piazza Olmo, there's everything you might need: a butchery, a tailor's shop, a newsstand, a farmer's market, a hair salon, a pharmacy, a supermarket, a pastry shop, a winery, clothing stores, computer stores, a hardware store, a parking, a tapestry-worker, a bookstore and a church.
Just a few steps separate Insula from Chiaia beach, the most central among the beaches in Procida, accessible on foot through a 186-steps stairway, located in an alley which departs from Piazza Olmo.
From Capodichino Airport
From Capodichino Airport you can reach the two ports of Naples (Molo Beverello and Calata di Massa) by taxi or by bus. The Alibus, which links the airport to the two ports directly, leaves every 20 minutes and the ticket can be bought on board.


From Garibaldi Central Station
The Central Station in Piazza Garibaldi is 2 km away from Molo Beverello and it's easily accessible by taxi or by bus. You can buy the bus tickets inside the station. Once you're out of the station, you can find the bus and tram stops about a hundred meters away: the most convenient ones are the tram n.1, the bus 152 and the bus R2, which stops in Piazza Municipio.


Maritime transport
Procida is reachable by sea both from Naples, from the two ports of Calata di Massa and Molo Beverello, and from Pozzuoli. Only ferries (Caremar, Medmar) depart from Calata di Massa, and they take approximately one hour to reach the island. Hydrofoils (Caremar, Snav) depart from Molo Beverello and they take around 45 minutes.

Ferries (Medmar, Caremar, Gestur) also depart from Pozzuoli and the trip from there is 40 minutes long. During high season we recommend booking the tickets online, in order to avoid long lines at the moment of departure.

As soon as you land at Marina Grande port, there's a bus stop. The buses will allow you to reach all the island's main locations. The tickets can also be bought on board. If you prefer taking a taxi, you'll find the stop right in front of the dock.