Insula evokes through its name the uniqueness of ancient Rome's typical households, welcoming you like a large and cozy home, in its most authentic and hospitable meaning. A quiet oasis which develops like a little village, where you can explore the architecture of Procida and get lost in atmospheres floating between dream and reality.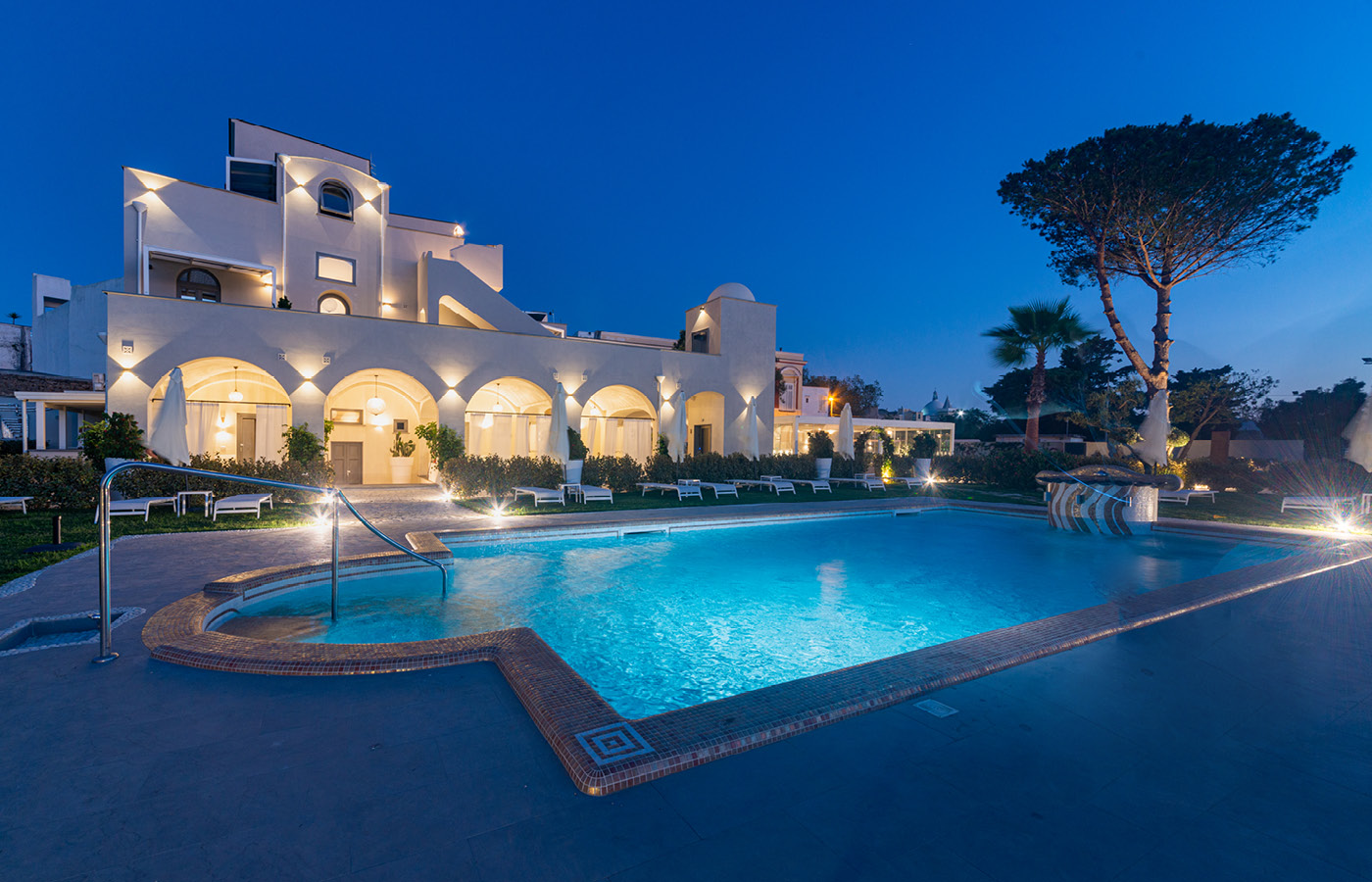 Scenic like a village, intimate like home.
Insula's rooms were designed to meet every specific need, in terms of comfort and tranquility. The meticulous attention to detail is our special key to open the doors of a really exclusive and authentic experience for you.
This is, therefore, your home, and you'll always come back here, because home is the place you always go back to. It's like an enchanted garden for you, this little island of mine.
Elsa Morante, Arturo's island
Designed in perfect harmony with the surrounding landscape, our pool is a water gem with an elegant mosaic core, nestled in a green oasis of relax and wellness, where you'll also find a hot tub, a large solarium and a characteristic Pool Bar.
Scopri di più
Our vocation to hospitality makes us your happy harbour.
The Insula experience is also open to external guests, who will be able to spend pleasant hours in a cozy and spacious green corner, between a swim in the pool, a relaxing dip in the hot tub and a refreshing cocktail at our Pool Bar.
Insula offers its guests a total immersion in Procida's most authentic essence, keeping the primitive architecture of the island intact, as well as the charm of its villages.

Among elegant vaults, picturesque "vefios", giraffe staircases, arches, halls and many precious details, refined with attention and devotion, you'll breathe in the intimate and lively atmosphere of a true procidan home.

Built on three stories, our boutique hotel has 10 rooms, each one different from the others, each one embellished with mosaics and original handmade decorations and equipped with every comfort.
The Lounge Area also features a large breakfast room, with glass windows surmounted with a characteristic bamboo roof, where you can take in the first rays of sunlight in the morning while you're enjoying the typical procidan "Lingue" pastries and choosing among the sweet and savory options of our rich International breakfast.

Waiting for you in the highest point of our little procidan oasis, an exclusive and romantic view, holding in a warm embrace the islands of Ischia and Capri, and grazing the unique skyline of Naples.

We designed Insula with the aim of offering you all the comfort and the attentions you seek. In order to guarantee a peaceful stay under every aspect, we thought of everything, providing our structure with a large parking and an elevator suitable for people with disabilities.

To complete our offer: WI-FI, room service, hydromassage, TV, mini fridge, safe, complimentary toiletries, air conditioning and heating. For a tailor-made dream, within arm's reach.