Let the magical atmospheres of the island of Procida surround you, spending pleasant hours in a cozy and spacious green corner, between a swim in the pool, a relaxing dip in the hot tub and a refreshing cocktail at our Pool Bar.
Insula pool bar offers the possibility to spend a day by the pool from 11.00 to 18.00 (with reservation required) and sunset aperitif from 18.00 to 21.00 (with reservation recommended for groups of more than 7 people). Reservation number +39 081 308 7617 or via our social media channels.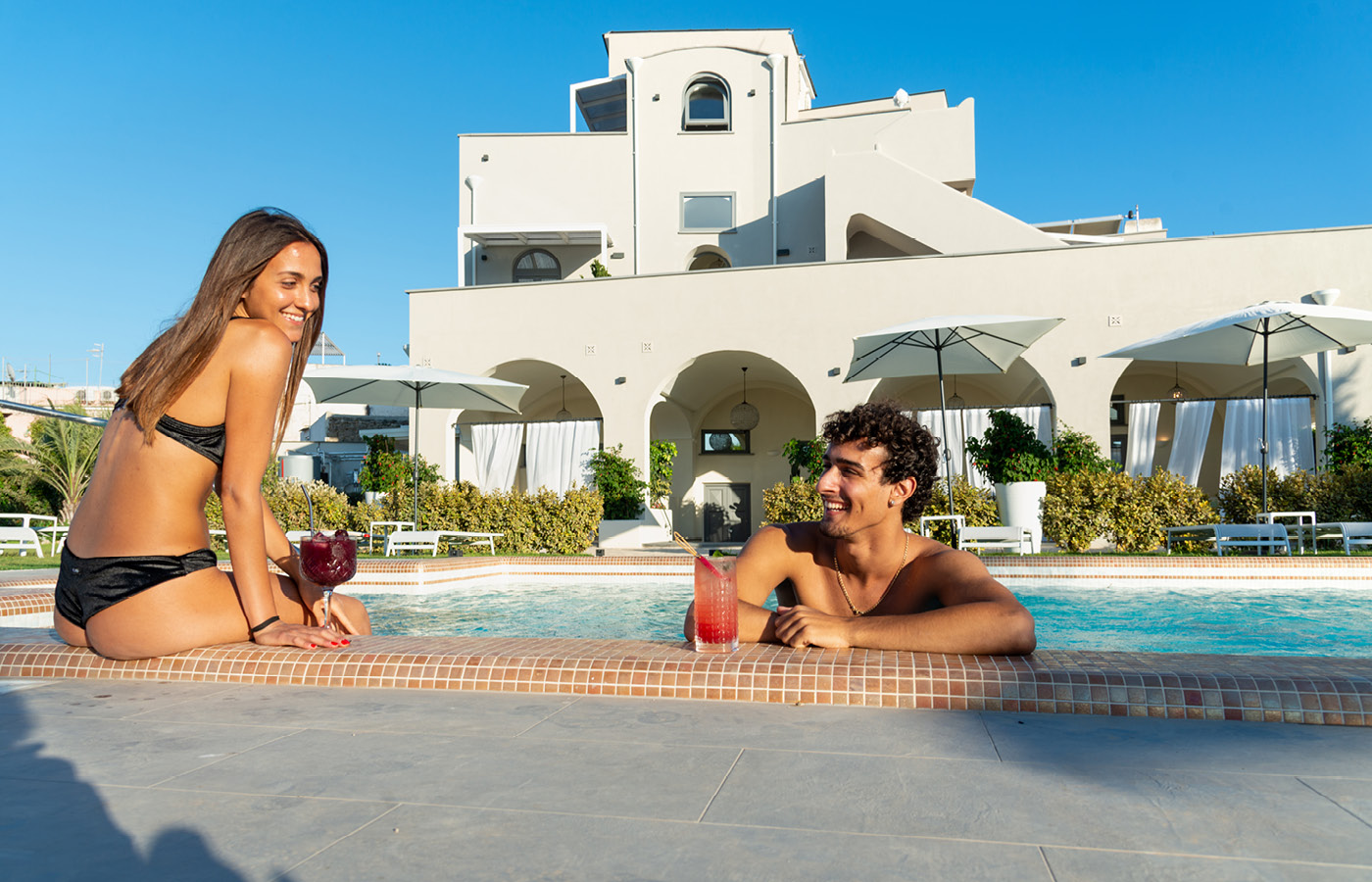 Get your fill of positive energy, let yourselves enjoy the magic.
Designed in perfect harmony with the surrounding landscape, our pool is a water gem with an elegant mosaic core, nestled in a green oasis of relax and wellness, where you'll also find a hot tub, a large solarium and a characteristic Pool Bar.
Insula's Pool Bar is the perfect place to enjoy life's best things.
With its inviting selection of snacks, sandwiches, piadinas and bruschettas, cocktails and beverages served under a characteristic bamboo roof, our Pool Bar offers to internal and  external guests a relaxing break, to enjoy a tasty aperitif or a poolside snack.
Our peaceful corner, between the green, blue, and the thousands of shades of Procida.
A swim in the pool, a revitalising dip in the hot tub, a nice book to read under the parasol or a good drink to sip on the sunbeds while sunbathing. The Lounge Area is Insula's green heart, created to offer you the chance to enjoy unforgettable moments, taking in every emotion that our island is ready to give, in a quiet and charming setting.
The islands of our archipelago, out there in the neapolitan sea, are all beautiful. [...] The sea is tender and fresh and it leans on the shore like dew.
Elsa Morante, Arturo's island